Syntezia organised the first edition of the Open Lab Day in Geneva in partnership with the NTN Innobooster Living Labs for Decarbonisation and sponsored by Cadcamation. The main goals of this event were to bring people from different background together to co-create solutions by using users centric methods.


Challenges to help decarbonize Switzerland 
This event covered topics from smart city, mobility, and infrastructure to digitalization. We identify ideas responding to these challenges: Smart City, from MaaS to Baas, and how to mutualize energy and services for an innovative, efficient and clean-living paradigm ; Hybrid Living and how digital models and new forms of living help reducing daily travel; Emission-free supply chain and how to tackle the problem of air pollution and more specifically pollution in urban centers; Mobility and how to bring mobility service more universal, more inclusive, with better intermodality between different solutions for moving people. These challenges must be put at the center of the reflection to shape a better future together. 
A Design thinking approach to co-design sustainable solutions 
By teams we collaborated and co-create sustainable solutions that help to decarbonise Switzerland. We discovered the tool Coreso presented and developed by Mayra and Florian Chavez which helps to ideate and evaluate ideas in a collaborative way. After ideation we used the platform Miro to go deeper in the definition process by using different Design Thinking approaches. First, we propose to the team to create their team's presentation in order to put in evidence their skills needed for the project. Then we used the Value Proposition Canva to define better the problem of their target audience, followed by the Business Model Canva Liaison that bring an overview of the Business plan considering the problem and its impacts. The teams also had the opportunity to work on the Problem Market Fits Canva that help to define how the solution can be suitable for its market. Finally, we proposed the Carbon Footprint tool which helps to calculate the carbon footprint produce by the solution and its environment.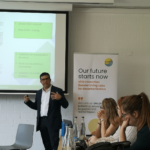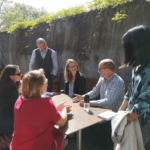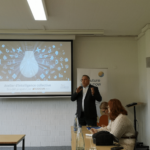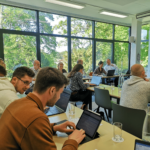 Meeting people from different backgrounds and attend inspirational speech 
We had the opportunity to have participants coming from different type of organisations, private companies, public companies, and authorities, academical institutions, and citizens. This environment brought different perspectives on discussions topics and helped to get a better understanding of the actual challenges.  
We also had the chance to meet David Ramirez who presented his company IntellSol, founded in 2021 which developed an innovative energy transition model to effectively deploy PV residential technology that enables Swiss corporations to achieve their sustainable development goals (SDG). David and his team created this solution through the NTN Innovation Booster Living Labs for Decarbonisation programme from which they received the idea funding. 
This event was a good opportunity to meet new people and expand its network. The collaboration between us brought more reflexions and perspectives on environmental issues. One of our participants said: "The network is a crucial element for the development of its project, and it is rich to observe its project from another point of view thanks to different people.".